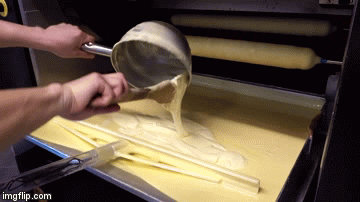 This is a video detailing the process of baking a 23-layer 'tree ring' Baumkuchen cake in Korea. The whole process is basically like an automated rotisserie, with a large wooden pin spun in cake batter, then presented to a heating element to bake the thin layer as it rotates, then the process is repeated over and over again until you have 23 delicious layers. Simple enough. Me? *lifting shirt, jiggling belly* I only have one delicious layer. "I think I'm gonna be sick." Hoho, too much of a good thing, I hear you.
Keep going for the video.
Thanks to Allyson S, who agree the best cake of all time remains Funfetti.