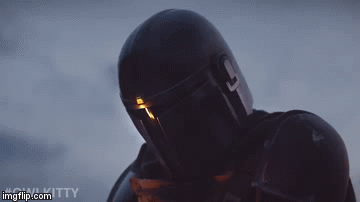 This is a video of OwlKitty (real name Lizzy) replacing Baby Yoda in The Mandalorian. If you're not familiar with OwlKitty's work, her owners edit her into popular movies so she can fulfill her feline dream of being a star of the silver screen or, at least in my case, a phone screen in a bathroom stall.
Keep going for this whole video (plus a behind the scenes one) as well as some OwlKitty Lord Of The Rings, Avengers Endgame, Stranger Things, John Wick and The Shining action, but check out her Youtube page for a bunch more if this is your cup of tea.
Thanks to Deksam, who agrees if The Mandalorian doesn't take his mask off to reveal Jar Jar Binks then Disney is blowing the greatest trolling of all time.
Because it's only a matter of time until the show gets every treatment you can think of, this is a video edit imagining a wacky 1980's sitcom...