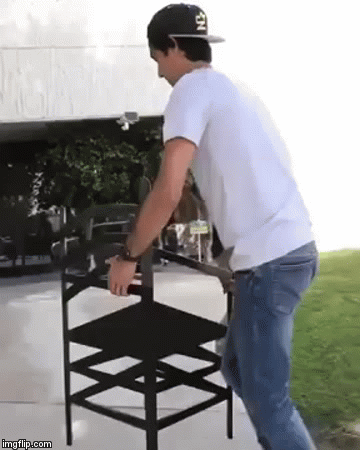 This is a brief video of a man demonstrating an optical illusion chair. Haha, very funny -- all I wanted to do was sit and rest my legs for a bit because I've been on my feet all day working, and now I have half an armrest up my keister. "Half of?" All of. Plus a handcuff key, two hundred dollars and a burner phone just in case.
Keep going for the full video, with a little bit more pan around reveal at the end.
Thanks to DT, who agrees magic is all around us, you just have to know how to spot wizards and witches.
This is the $1,500 Emperor's Throne inspired armchair manufactured and sold by Regal Robot (don't worry -- custom upholstery available if black and purple faux-leather don't vibe...
Read More:
chairs
,
design
,
eye tricks
,
having a great time
,
i see what you did there
,
interior design
,
mc escher you can come out now!
,
oh you!
,
optical illusion
,
sit for a while and take a load off they said
,
sitting on things
,
so that's what that looks like
,
that's cool i'm cool with the floor honestly