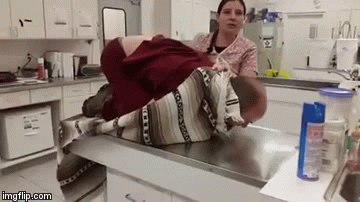 This is a surprisingly real veterinary technician training video detailing how to deal with a fractious (unruly) cat, with a man playing the role of the frisky feline. He, uh, he really goes for it. Especially when he gets loose and starts jumping on the tables and batting stuff off the countertops. Granted I would have done the exact same thing if my doctor was trying to give me an enema to loosen my stools, especially when I know I passed two Taco Bells on the way to the clinic in the first place.
Keep going for the whole video.
Thanks to Charlotte, who agrees there's a time and a place for a tranq dart, and the time is now, and the place is my roommate's left butt cheek.
This is a video from a vet's office of a tabby cat performing a leap of faith from a high cabinet with its bed in its mouth...
Read More:
actor
,
animals
,
cats
,
dare to dream
,
freaking out
,
giving it your all
,
health and wellness
,
i am a cat i am a cat i am a cat
,
i would have done the exact same thing
,
learning by looking
,
meow?
,
oscar worthy
,
pets
,
screw this i'm outta here
,
so that's what that looks like
,
teaching things
,
trying hard and believing in yourself
,
vet
,
video