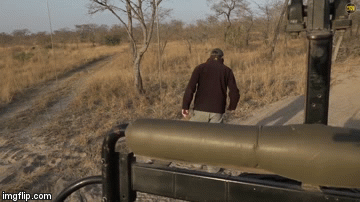 "Oh my word."
This is a short video of safari guide Steve deciding to get out of his vehicle to follow some lion tracks when he almost walks right into the middle of the resting pride. Now I'm not sure if this was his first day as acting safari guide or what, but that is not a good way to ensure job security.
Keep going for the video, complete with slow motion reaction.
Thanks to Charlotte, who agrees that, thankfully for him, those lions appeared to have no interest in a little Safari Steve tartare that day.
"It's trying to heatbutt me bu-- AH!" This is a short video of a girl trying to take a selfie with a goat on a rope when...
Read More:
animals
,
dammit safari steve
,
hiding
,
i saw those lions from a mile away just what sort of safari guide are you steve?
,
i'll just return from where i came from sorry to bother you
,
lions
,
not getting eaten
,
peekaboo!
,
predator vs prey
,
safari
,
steve irwin is not impressed (RIP)
,
surprise!
,
video
,
woopsie