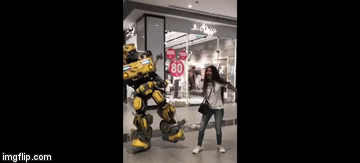 This is a short video from the mall (wish I was there) where a girl gives Bumblebee a high-five, then he rolls an ankle (axle?) and eats it, breaking several pieces of himself off in the process. Thankfully, this appears to have not been a Humpty Dumpty situation and at the end of the video he's almost all back together again. That's a relief. Still, when reached for comment about the incident, all I could hear was Megatron laughing, then transforming into gun form and having Starscream discharge him into space.
Keep going for the full video while I try to sell the secret of devastating high-five attacks to the Decepticons.
Thanks to Cam, who agrees Optimus Prime can't be thrilled about that performance.
This is some Nest home security cam footage of some poor unfortunate soul who just made himself some food (cereal? New England clam chowder?), and while trying...