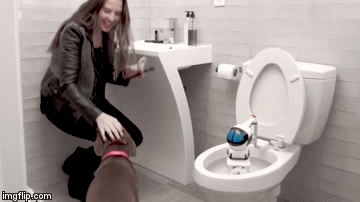 Because sometimes even robots get the short end of the stick, this is a promo video for the Giddel Toilet Cleaning Robot. Giddel is a $400 portable household robot that attaches to an included mount on your home's toilets and gives them a little robotic elbow grease. Although, based on the video, it looks a lot more like a gentle massage than power scrubbing. Also, it costs $400 for a job that literally takes less than a minute to do for a really good job, and that's coming from a guy whose toilet bowl regularly looks like a Jackson Pollock painting. Granted, that's all my roommate's fault. "Do you even have a roommate, GW?" Do dogs count? "No." Then yes I do. "Are you lying?" No. "Is it opposite day?" Maybe!
Keep going for a video of what completely wasting $400 (even for a rich person) looks like in action.
Thanks to Davey, who agrees that, while robots certainly deserve to scrub toilets, they should at least do a decent job.
Read More:
bathroom
,
cleaning things
,
expensive
,
hmm
,
iffy
,
making life easier
,
oh cool another piece of junk around the house
,
pay me $400 and I'll come clean your toilets once a week for two years (you pay airfare)
,
pfft
,
questionable
,
robots
,
video
,
yeah that doesn't look very powerful
,
you really have to get in there and power scrub you know?