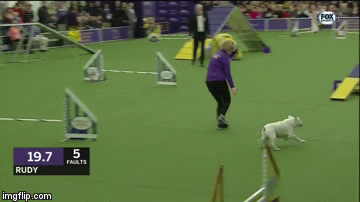 This is a video of Rudy the bulldog tearing through the agility course at the Westminster Dog Show. Who knew bulldogs could be so agile? Probably people who have one. Rudy finishes the course in a very speedy 46.63 seconds and five faults (for failing to jump from the rear of one of the jumps). For reference, my dogs are 100% faults, but I love them anyways because I believe in unconditional love. I also believe in unconditional money-back guarantees, which is why I never buy anything without one because everything I buy always breaks using it for its unintended purpose. Can't find a hammer? Just use your air fryer.
Keep going for the video of Rudy in action.
Thanks to Abby J, who's convinced Rudy is more raging bull than dog.