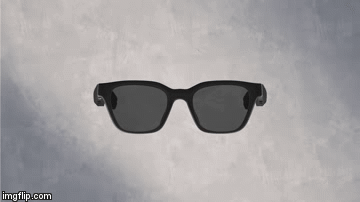 These are a new line of $200 sunglasses from Bose, which have tiny speakers embedded in the arms of the glasses so people don't have to wear earbuds or over-the-ear headphones to listen to their annoying music or make a loud phone call. Some more info while I see how many coworkers I can trick into thinking my stapler is actually a phone (I already got Greg to staple himself in the temple trying to answer a call, so that's one):
The glasses come in two classic styles - Alto and Rondo - and offer a personal immersive audio experience. Additionally, the glasses come pre-enable with AR capabilities that can be unlocked when the software updates.


To everyone else they're just sunglasses. But you know the secret: miniaturized Bose electronics hidden in the temples. It's a state-of-the-art personal listening experience embedded in a classic design. ...Bose Frames are your portal to Bose AR, the world's first audio-only augmented reality platform, where applications will utilize contextual audio to deliver first-of-a-kind experiences. Every pair of Bose Frames is already Bose AR enabled. And it'll be unlocked via a free software update.
AR capabilities -- that's cool and all, but will a person be able to replace the lenses with those from an existing pair of x-ray specs? Asking for a friend who does as little actual work at work as possible and has grown used to being able to see his boss before he comes around the corner.
Keep going for a video.
Thanks to hairless, who agrees they should also make these available in eyepatches.