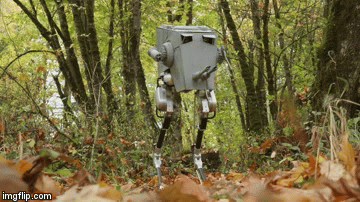 This is a video of a Cassie bodiless humanoid-legged robot (previously seen in chronological order HERE, HERE and HERE) wearing a Star Wars AT-ST costume made by members of her build team at Oregon State University's Dynamic Robotics Lab. They also added some CG blaster cannon effects for more realism. Or maybe those are real blaster cannons, who knows, stranger things have happened. "Did you wake up with a girl in your bed this morning?" Very funny. And no, she got popped by the underwire in her bra blew out the window Saturday night.
Keep going for the video.
Thanks to Rob, who agrees the only good thing about two-legged robots is their ease of tripability.