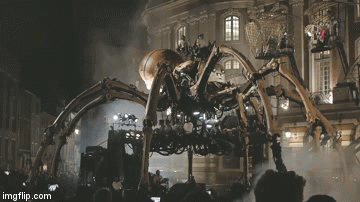 This is a video of the giant mechanical Minotaur and spider built and operated by French street-theater/giant puppet company La Machine as part of their Le Gardien du Temple (The Guardian of the Temple) show in Toulouse, France, during the first four days of November. The spider I remember seeing previously, but the minotaur is new to me. And speaking of the minotaur -- I'm pretty sure I have to kill him in Assassin's Creed Odyssey as part of a questline. Plus a cyclops and Medusa. Still, I think it's a shame that-- "Ubisoft didn't make them romance-able characters?" Right?! I've already had sex with every other person in the game, it's time to get freaky.
Keep going for the video.
Thanks to Scott, who had this to say: "Holy F...". I couldn't have said it better myself.