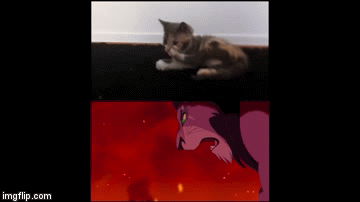 This is a video of two kittens who, clearly excited about the computer animated remake of The Lion King coming out next year, decided to reenact the original movie's fight scene between Simba and Scar. Sure it's not the best choreography I've ever seen, but they are just kittens. Honestly I'm surprised they even found enough time between their busy sleeping and pooping schedules to make a video. *daydreams about being a cat* Man, this is the life. "Stop licking yourself." This is my daydream, you get your own.
Keep going for the video.
Thanks to Dom, who agrees the wildebeest stampede scene in the new movie is gonna be a doozy.