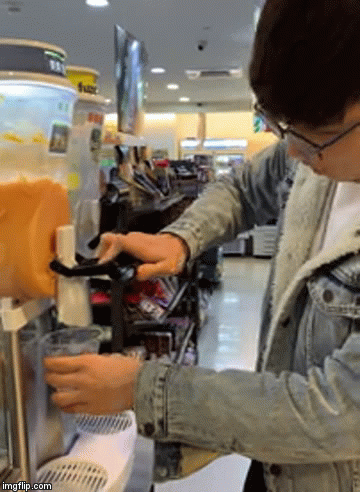 Clearly upset his slushie isn't as free-flowing as he'd like it to be, this is a short video of a guy at a 7-11 in Taiwan who accidentally Hulks the entire nozzle off the front of the machine, then, thanks to his quick thinking, proceeds to catch the waterfall of frozen drink in his hand. Personally I would have just walked away and informed a store clerk that I spotted a vandal breaking their slushie machine, but clearly this man is a firm believer that you never know when you're going to need a dripping handful of Orange Freezie.
Keep going for the whole video with a much more watchable framerate.
Thanks to Jan, who agrees he should have just taken the top off and scooped his cup in there like a normal person.
Read More:
accidents
,
breaking things
,
convenience store
,
drinks
,
hulking things
,
i'm angry about it
,
just walk away
,
muscles
,
one time i hulked the pipe to my shower head clean off true story
,
that wasn't supposed to happen
,
video
,
way to go
,
why were you filming was this malicious?!
,
woopsie
,
you're too strong