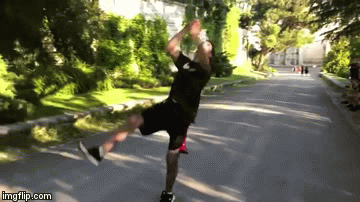 This is a video of a guy performing 29 gainers down the a pleasant looking lane without stopping. For reference, there's no doubt I would have fallen on my neck and paralyzed myself about halfway through the first one. He just keeps going. Also, I'm not 100% positive he actually does 29 since the video was skipping when I was counting because my computer was built in the 90's. It's probably time to upgrade my video card. "It's probably time to throw that computer out your office windows." Windows, LOL. I'm still running '95.
Keep going for the whole video.
Thanks to hairless, who agrees would an even thirty have killed him?