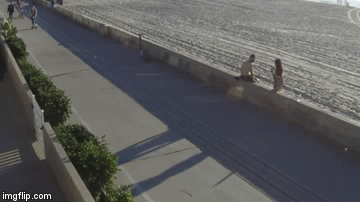 I'm freeeeeeeeeeee!
This is a short video of a man on a Segway losing control of his ride and it speeding off without him (but taking his helmet). Thankfully, a good Samaritan smoothly snatches the thing as it passes before it can go breed and create an army of killer robots, simultaneously saving this guy his deposit from the Segway rental shack. Obviously, this man should probably cross 'hoverboard' off his Christmas list if he plans to live to see New Year's.
Keep going for the whole video (complete with save) while I try to explain to the teen working the Segway rental stand that my unit was eaten by sharks so it's really not my fault can I please just have my deposit and I.D. back now?
Thanks to Sandy, an appropriate name for a sort of beach related post. Did you do that on purpose? "It's the name my parents gave me." And it all led up to this point, fascinating.