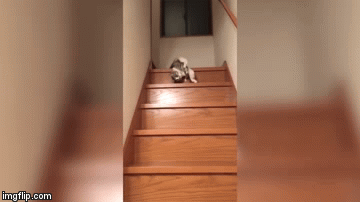 This is a short video of a cat lazily flopping its way down a wooden staircase. Granted it's not the first video like this I've ever seen, but it is the most recent one. I think we all know how that cat feels. The staircase is the work week, and we're all the cat. The bottom of the stairs is finally leaving work on a Friday to hit happy hour. Sadly, the cat is stopped by an unknown force just a single stair away from being able to put the week behind it. Maybe it was an email from your boss telling you that need to finish a last-minute project before you can leave for the weekend. Or maybe it was a text from your significant other saying they have a headache and just feel like laying on the couch and having you rub their feet all evening while watching a movie of their choosing. Whatever the case, I'm pretending like I didn't see either and I'm getting to the bottom of those stairs.
Keep going for the video.
Thanks to hairless, who sails through the week like riding down the stairs on a baking sheet. MUST BE NICE.