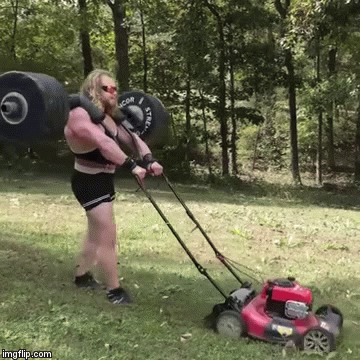 Seen here feeling the burn (and looking suspiciously like the spawn of Dog The Bounty Hunter), this is a short video of a man mowing his lawn while carrying a 500-pound barbell on his shoulders. I'm semi-impressed, but I'm going to see him cut the whole yard like that before I'm REALLY impressed. Plus maybe do some weeding and cut down a few tree limbs. Shit, and if you could get up on the roof and clean out my gutters out that would be great.
Keep going for the whole, briefly longer video.
Thanks again to Sandy, who agrees it would have been even more impressive if he was lunging.