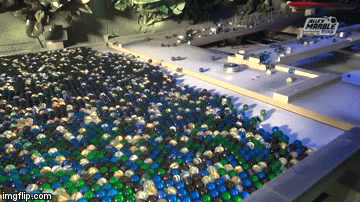 This is a video of a marble run built in the Netherlands that, running at max capacity, can have as many as 11,000 marbles rolling simultaneously. Some more info while I joke Tootles about losing his marbles. "Don't be a dick." Whatever Peter, you stay out of this.
This marble run (or marble machine) has 4 tipping containers which can release up to 10,000 marbles in one go! If the biggest 2 containers (with 1000 and 10,000 marbles) are tipping at the same time, it creates a flood of 11,000 marbles!


Construction started: April 2015
Construction finished: June 2015
Total number of marbles ~13,500
Number of paths and tipping containers: 4
It's build inside the kids playground "Monkey Town" at Gouda, the Netherlands.

NOTE: There're no neighbors to worry about because it is build behind glass inside an indoor kids playground and the machine will be shut off after closing time of the kids playground.
As fun as that was to watch and listen to, I'm in a bit short on cash now since my marble didn't win the race. "Wait -- you bet on a 10,000 marble race in a Youtube video?" Yes, but only because i had a really good feeling about that one brown marble at the very beginning. "You need help." Come on! *paying coworker another $20* How did you know they were gonna say that?
Keep going for the video.
Thanks to Alan, who informed me he's just getting into marble runs. That's great, I'll come over this weekend.