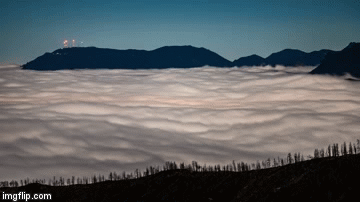 This is a timelapse video captured by photographer Lars Leber above Colorado Springs, Colorado where the clouds appear to move like undulating ocean waves. How tranquil. I mean, at least until a cloud shark breaches the surface and bites your f***ing leg off. Super chill till then though.
Keep going for the whole video.
Thanks to hairless, who agrees it would have been awesome to see a pod of cloud dolphins doing flips in those waves.