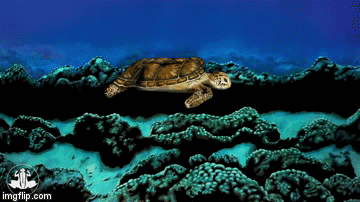 This is a video of model Sara Costabiei bodypainted by artist Johannes Stoetter (previously) to appear as a swimming sea turtle when she flaps her arm a little bit. Crazy, right? At first I had no clue what I was looking at. Then I thought I knew what I was looking but wasn't sure. THEN THE TRUTH WAS REVEALED TO ME. "How did that make you feel?" I think I liked the mystery better, 3.5 out of 5 stoner sea turtles from Finding Nemo, stop using plastic straws and just drink out of the glass like you do at home.
Keep going for the whole video.
Thanks to my friend becca b, for reminding me to bring my reusable bags to the grocery store.