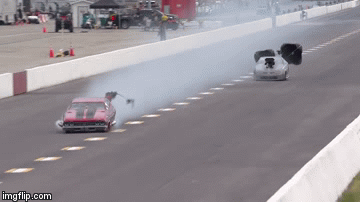 This is a video of Pro Mod drag racer Mike Bowman's parachute failing during a qualifying race in St. Louis. Thankfully, there's a safety net at the end of the track that catches his '69 Chevelle, and he's able to walk away from the incident unharmed. Obviously, my drag strip might require a few modifications before being put to use for sanctioned racing. "You dug a moat at the end of the track and filled it with crocodiles." Oh, and I suppose the first drag strip you ever built was just perfect.
Keep going for the whole glowing brakes video.
Thanks to speakerbox, who agrees this is exactly why drag racers need ejector seats.