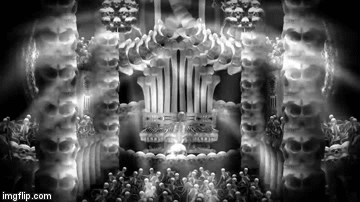 This is 'RIP', a trippy animation created by Cyriak Harris in the spirit of Halloween that features a bunch of skeletons dancing around and getting all freaky deaky. SO MANY SKULLS. Did you count all the skulls? I counted all the skulls. "How many were there?" Too many to count. The video is pretty weird, but I like it, which is similar to how I feel about you. "But I'm not weird." LOLOL.
Keep going for the video while your friends and I all have a good laugh about how not weird you are. Also, my favorite skeleton animation of all time has to be the skeleton song played after Guybrush Threepwood cracks his head trying to climb the treehouse in Monkey Island 2: LeChuck's Revenge.
Thanks to hairless, who agrees it's hard to beat the 1929 'The Skeleton Dance' Silly Symphony cartoon short from Disney.
Read More:
animation
,
everybody needs a hobby
,
freaky deaky
,
halloween
,
having a great time
,
i think the devil just spoke to me
,
living your best death
,
oh wow
,
skeletons
,
skulls
,
so that's what that looks like
,
sure why not
,
this is halloween this is halloween
,
video
,
what did i just watch (and can i find one for every holiday?)