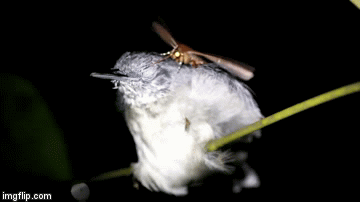 Because moth memes are all the rage right now, this is a video captured by biologist Leandro João Carneiro de Lima Moraes in the Amazon Rainforest of Brazil of a giant moth drinking the tears of a sleeping antbird while a mosquito sucks the bird's blood. Damn, can't a bird catch a break around here? This poor bastard's probably going to wake up getting eaten by a snake.
Keep going for the video while I suggest moths leave these birds alone and start drinking all my tears I've cried on the floor in front of my toilet.
Thanks to my buddy Dave L, who knows what I like, but this is not it so I'm confused.