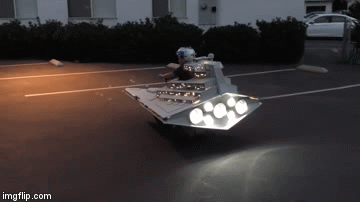 This is a video demonstration of the bicycle-based Star Destroyer costume father Andrew Guy built for his son Aidan. He says it took several months of planning and construction to have ready for Halloween, and includes a hidden speaker that blasts 'The Imperial March.' Very nice. Although how Aidan is supposed to make it to anybody's front porch in that thing is beyond me, but I suspect it involves a lot of homeowners yelling about their flowerbeds. Or -- OR -- the invention of curbside trick-or-treating. Think about how many more houses you could hit if people were just waiting at the end of their driveways with candy and you didn't have to waste time making your way to their door! *crunches the numbers* I would be seven pounds heavier right now.
Keep going for the full video while I just give Aidan all my candy, go back inside, and turn my porch light off.
Thanks to J-Mart, who was clearly been marting before K even thought about getting into the business.