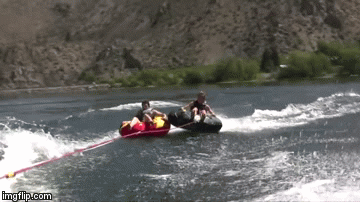 This is a short video of two kids water tubing when they both wipe out and one kid manages to flip over perfectly into the other tube. That is impressive. Completely unintentional, but impressive. Reminds me of the time when my buddy and I were tubing in the same tube and decided we'd roll off into the water on opposite sides but each still hold on to our handle, then pull ourselves back up after a few seconds. "How'd that work out for you?" We both lost our swim trucks the instant we hit the water. They were just, gone. "Then what happened?" His sister and her friends on the boat refused to throw us towels so we had no choice but to swim into deeper water and accept our new lives as mermen, the end.
Keep going for the whole video, which includes a slow motion version.
Thanks again to debbie, who agrees somebody needs to add a bunch of sharks to this video.