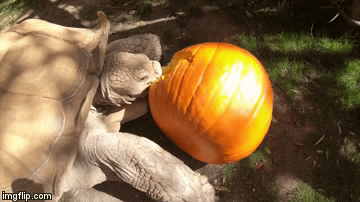 In a video that would undoubtedly make young Zombie Jonathan squeal with delight, this is some footage from the Oregon Zoo of a large African spurred tortoise named Dozer breaking into and eating a pumpkin. Just look at him go. Reminds me of myself the first time I tried to carve a pumpkin without a knife because my mom said I wasn't ready for one yet. I was 17. When reached for comment about the video, the hare said he would have never agreed to race in the first place if knew the prize for winning was a lame-ass pumpkin. Obviously a sore loser.
Keep going for the video.
Thanks to Allyson S, who agrees if you haven't tried carving a pumpkin with nothing but your teeth, you haven't lived.