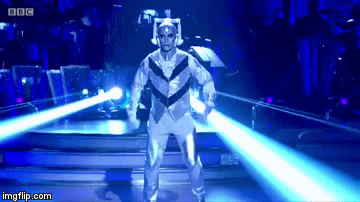 This is a video of journalist Stacey Dooley and professional dancer Kevin Clifton performing a Doctor Who themed tango to the show's theme song on the BBC's 'Strictly Come Dancing'. Obviously, Stacey is portraying the new Thirteenth Doctor, and Kevin, Mr. Freeze. "He's a Cyberman." Oh -- right. You have to admit, it is nice to see Mr. Freeze finally reunited with his wife though. "HE'S A CYBERMAN." Totally, Victor and Nora back together again, happy endings.
Keep going for the video.
Thanks to carey, who's hoping for a follow-up Weeping Angels inspired performance where the two dancers can never look at each other.