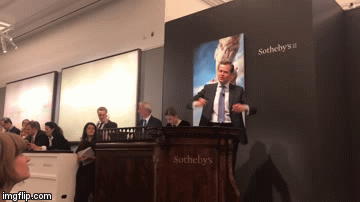 This is a video from the Sotheby's auction house in London of the Bansky painting "Girl With Balloon (2006)" shredding itself immediately after bidding ended for the piece at £1,042,000 ($1.4 million). The piece's destruction was all thanks to a custom shredding frame Banksy built "in case it was ever put up for auction" and remotely activated following the sale. No word how the person who bought the piece feels about this shocking turn of events, except yes we do and I'm mad as hell about it. "You did not buy the painting." Hell no, I fought my way out of there with my little paddle before they could make me pay for it. "It's probably worth even more now." Please don't say that.
Keep going for the shredding in action.
Thanks to Ilana, Irina and Thaylor H, who agree Banksy probably bought it himself.