This is the prototype Ghostbusters ghost trap automatic cat feeder created by If industries. It can operate as a computer controlled timed cat feeder or a Wi-Fi enabled device that can be triggered to open at anytime from anywhere via sms, tweet, email, or a phone call. Pretty clever. I used to have an automatic cat feeder for my cats but it made so much noise when it started churning out the kibble they would all run and hide under my bed. I mean, if my bedroom was open. If it wasn't, whoever was fastest would usually run head-first into the door. Remember: first place doesn't always win the biggest prize.
Keep going for a short gif of the thing opening, in case you needed to see that.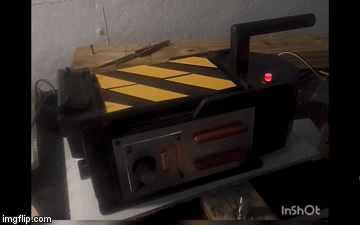 Thanks to If industries, who's truly on the cutting edge of novelty product design.