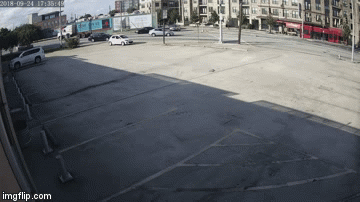 This is a video from two different security cameras off Marietta Street in northwest Atlanta of a driver who allegedly got his foot stuck between the gas and brake pedals and drove his vehicle off the side of a parking lot and down to the alley below (Google Street View photo of the location so it makes more sense, after the jump). Ironically, the businesses he landed in front are a chiropractor's office and a car detailing service, which are arguably the second best places to crash your car besides directly into a hospital next to a new car dealership.
Keep going for the whole video (the man was uninjured). Also, the way that hubcap rolls back into frame after the crash looks like something straight out of a cartoon.
Thanks to Carly, who agrees that is not how you parallel park.