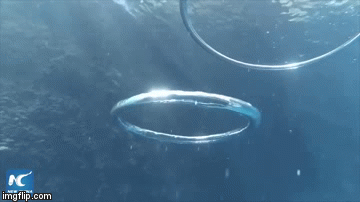 This is a video from a diver off the coast of Illes Balears, Spain, who produces two bubble rings then watches them combine Voltron style to form a much larger bubble ring (filmed in slow motion). It's pretty mesmerizing to watch, and really made me wish I was relaxing on a beach right now instead of being stuck in this office. I feel like the flickering of the fluorescent light panel above my cubicle is starting to make me go crazy. "Starting to?" Plus there's an ice-cold A/C vent blowing directly down my back. How's a person supposed to get any work done in these conditions? And who do I need to talk to get this fixed? "Try HR." Human recycling? But every time they call somebody to come down and talk I never see them again! Also I want to see this diver try like eight bubble rings next time so I can see if they integrate as poorly as everybody did at my last sex party. Now stop standing by the dip and get in here!
Keep going for the video.
Thanks to Davie N, who informed me bubble rings are cool, but apparently not cool enough for a mermaid to accept for her hand in marriage. Ha, I tried the same thing. Let me know if you wanna grab a beer sometime and talk about it.