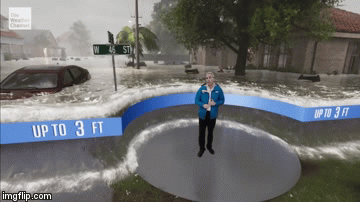 This is a video of The Weather Channel's Dave Malkoff using some new immersive technology to explain storm surges and help viewers visualize their danger. Personally, the term 'storm surge' alone is enough for me to know I want no part of one, but that's just me and I'm a firm believer safety always comes first. "Um, did you just swallow a thumbtack?" Well yeah, but only to pop the balloon animal I swallowed.
Keep going for the video, and everyone be safe out there.
Thanks to Christian, who's not convinced this was less technology and more Dave Malkoff having superpowers.