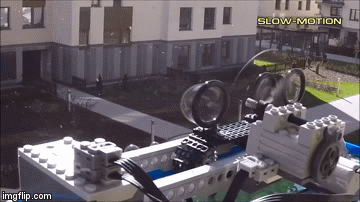 This is a video demonstration of the LEGO bubble blowing machine built by Sariel of Sariel's LEGO Workshop. It's a pretty clever design, although I think the fan and/or motor turning the bubble rings may need to be adjusted because it appears to only have about a 25% success rate of releasing bubbles instead of popping them. I'm sure that could be modified. My car? My car has already been modified TO THE MAX. "It's on fire." Pretty bitchin', right? Also, if you want a really cheap bubble blowing machine, they're called children. Unless they're your own, then they're crazy expensive.

Keep going for the video.
Thanks to Harry HL, who agrees the best part of blowing bubbles is drinking the soap when your mom isn't looking.
Read More:
a marvel of modern technology
,
air
,
blowing bubbles
,
bubbles
,
everybody needs a hobby
,
having a great time
,
impressive
,
is there anything you can't build with lego?
,
lego
,
modular
,
neato
,
plastic
,
popping bubbles
,
so that's what that looks like
,
soap
,
some people are so clever
,
sure why not
,
video