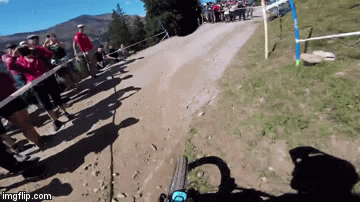 This is the footage from downhill cyclist Rachel Atherton's helmet-cam as she absolutely tears down a course in Lenzerheide, Switzerland to win her 5th Union Cycliste Internationale (UCI) World Championship title. I don't know how people can even react that fast. There's no question if that had been me I would have missed the second turn and ended up in the woods wrapped around a tree. And despite what those Ents would have you believe, they're actually terrible lovers. Plus I think ol' Treebeard still gave me something even though I took precautions. "You made a condom out of poison ivy." They looked like maple leaves!
Keep going for the video, it's intense. Also probably not for anyone who gets motion sickness easily.
Thanks to Devon, who agrees sometimes you just have to cut the brakes and fly.
Read More:
bicycle
,
bikes
,
competition
,
congratulations
,
dear god
,
downhill is always the fun part isn't it?
,
holy smokes
,
i'm flying jack!
,
not crashing into things
,
not for me
,
race
,
slow down!
,
so that's what that looks like
,
that's too fast
,
trying hard and believing in yourself
,
video
,
whee!
,
zoom zoom