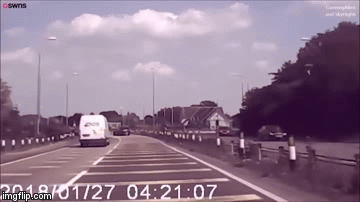 This is a motorcyclist's helmet-cam footage from the A11 near Attleborough in Norfolk, England of a speeding van that's apparently unaware it's approaching a roundabout and launches over it at high speed. Or maybe the driver plays too much Mario Kart and was convinced this was a legitimate shortcut. Or -- OR -- the most likely situation: this is their audition tape for the inevitable British Dukes Of Hazzard remake, Dukes Of Attleborough.
Keep going for the video.
Thanks to blue16, who agrees when in doubt, launch over it like a downed power line.
Read More:
body massage?
,
dangerous
,
get well soon
,
holy smokes
,
i'm flying jack!
,
let's launch over it
,
mario kart
,
slow down!
,
that's too fast
,
to infinity and beyond!
,
traffic
,
transportation
,
video
,
whee!
,
yikes
,
you've got a fast car i want a ticket to anywhere maybe we can make a deal maybe together we can -- oh hell no let me out aren't you that guy that launched over that roundabout?