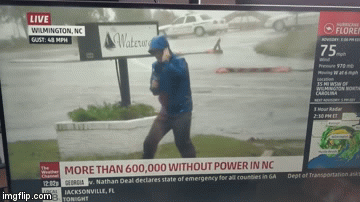 Because you never know when a big Hollywood agent could be watching, this is a video of a Weather Channel reporter in Wilmington, North Carolina acting like he's about to take a trip to Oz as two guys in shorts casually stroll by behind him. Obviously, this man should have been an actor. And by actor I mean street mime. I'll give you a nickel if you act like you're about to get hit with a nickel.
Keep going for the video.
Thanks to Devon and hairless, who agrees he should have been holding an inside-out umbrella to really sell the act.