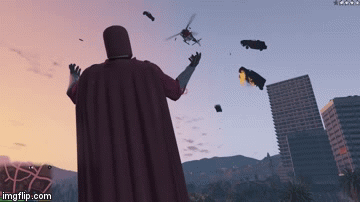 This is a video demonstration of the Magneto script mod created by gamer JulioNIB for Grand Theft Auto V. It allows a player to fly around and use their magnetic superpowers to control metal objects, usually in the form of picking up cars (or trains or helicopters) and throwing them around and causing all sorts of death and destruction. Basically everything you already do in Grand Theft Auto, but with magnetic superpowers. Not to brag or anything, but I felt like I was burning the city to the ground just fine without them.
Keep going for the video demo, it really is pretty sweet if you're into GTA V. Also, you can download the mod for a $2 Patreon donation by following the links HERE.
Thanks to Christopher C, who agrees superpowers really do make wreaking havoc so much easier.