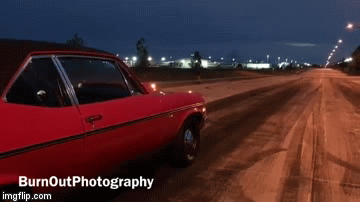 This is a very short video of an old muscle car (I believe a Chevy Nova?) attempting a burnout and losing its driver-side rear wheel in the process. *holding up '0' scorecard* You've gotta make sure to tighten those lug nuts. You forget to tighten your lug nuts and one second you're towing a mid 60's Volkswagen Beetle down the highway with your uncle, and the next you're watching one of its wheels pass you like it's a race. Man, that was one of the most hilarious/terrifying experiences of my life. "You mean mine." My brother Frank, ladies and gentlemen! "You weren't there." Yeah...why wasn't I there anyways? "Mom had to take you to the doctor for roundworms for playing with raccoons." That's right! Man, I miss hanging out in those sewers.
Keep going for the video.
Thanks to JD, who agrees that, lucky for us, the driver didn't immediately get out and delete the footage of their accidental burnoff.