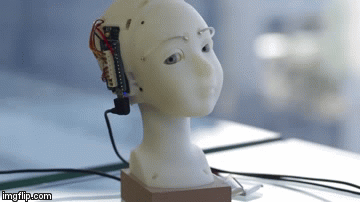 This is a video demonstration of Japanese artist Takayuki Todo's SEER (Simulative Emotional Expression Robot). It has very expressive eyes and eyebrows it can use to make you feel sorry for it, presumably right before you're about to run it through with your robot-slaying ninja sword. Will that be enough to stop you? "No." *patting on the back* I'm so proud of you.
If we understand and identify with robots which can learn the functions and usages of emotional expressions from interactions with people, get a good command of them accordingly with situations and context, could we distinguish them from the existence of those with real minds and emotions? As the first step to realize this, I thought two conditions were necessary: the eyes to detect the appearance of another's face, and the face to be made appealing to the viewer's eye.
But do robots really need to learn the function and usage of emotional expressions? What's the purpose besides trying to deceive us? Whatever happened to a robot just cleaning the house and making dinner then rolling into a closet and unplugging itself? I'm not here to understand and identify with robots, I just want my life to be easier. Making emotional robots makes no sense. "Realistic sex bots." We really need to get off this planet ASAP.
Keep going for the video, as well as one of SEER mirroring facial expressions in real-time.
Thanks to Christian, who agrees the end nears, and it isn't going to be pleasant.
Read More:
body parts
,
emotions
,
expression
,
face
,
facial recognition
,
hmm
,
robot relationships
,
robots
,
stop that i'm not going to feel sorry for you don't make those eyes at me!
,
the future nears
,
they're trying to trick us!
,
uh-oh
,
video
,
whatever happened to rosie the robot from the jetsons where are those at that's all i want