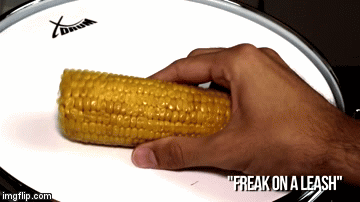 This is a video of musician and Youtuber Davie504 performing a medley of Korn songs with corn -- using a piece of popcorn as a guitar pick (I would have used candy corn), and corn on the cob to play bass and percussion. Apparently Davie has made similar videos in the past performing Red Hot Chili Peppers songs with a red hot chili pepper, and Eminem with M&Ms (both included after the jump), which I was entirely unaware of until now because, given the opportunity, I prefer to swim in the shallow end of the internet. "You're wearing floaties and a life vest." I still like to be able to touch the bottom with my feet.
Keep going for the videos while I constantly refresh his Youtube page waiting for the inevitable Cake, Cranberries, Spice Girls, Salt-N-Pepa, Ice Cube, Vanilla Ice and Meatloaf videos.
Thanks to Alex S, who agrees that is one hell of a niche.