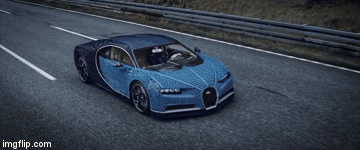 To promote the sale of their much smaller 1:8 scale Bugatti Chiron LEGO Technic kit, these are a bunch of shots and a video of the full-scale version LEGO built out of Technic pieces (and metal framework and actual wheels). The predominately plastic car weighs in at 3,300 pounds and was built with over 1,000,000 pieces including 2,304 LEGO Power Function motors and 4,032 Technic gears. It's engine produces a whopping 5.3 horsepower and tops out at a blistering 12.4 miles/hour. SLOW DOWN. So did this cost more than an actual $3,000,000 Bugatti Chiron to produce? Almost certainly. Now, are you thinking what I'm thinking? "We need to see crash-test footage." Don't disappoint us, LEGO, we deserve this.
Keep going for a bunch more shots and the video.
Thanks to Kira K, who agrees they need to toss some full-scale LEGO crash test minifigs in there and give us what we want.
Read More:
building things
,
expensive
,
impressive
,
lego
,
luxury
,
model
,
plastic
,
replica
,
sports cars
,
things that look like other things
,
video
,
vroom vroom
,
you've got a fast car i want a ticket to anywhere maybe we can make a deal maybe together we can -- wait a minute this car only looks fast -- we're barely moving!