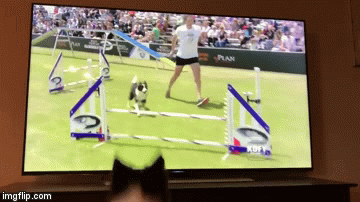 This is a video of border collie Kirk (a female, but named after Captain Kirk of the USS Enterprise) watching herself win the small dogs agility course at the 2017 Purina Pro Plan Incredible Dog Challenge on television. She gets really excited about it too. Do you think she knows that's her? Do you think she remembers that day? "She probably just recognizes there's a dog on TV." Yeah...my dog doesn't even do that. She's, how do I say-- "Not that smart." What the -- did you hear what they just said about you, Margaret? Sic em, girl! No, not lick! No kissies! What are you doing?! *climbs in lap, rolls over so you can rub her belly* Well, I guess she's your dog now.
Keep going for the video.
Thanks to Allyson S, who agrees dogs are the best. Unless you're a cat person, then cats are the best. Whatever, the point is it's not humans.