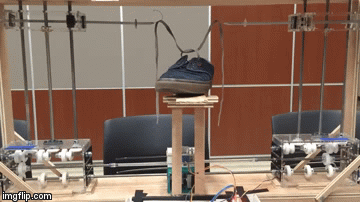 This is a video demonstration of the shoe tying robot developed by University Of California Davis Andrew Choi, Gabriela Gomes, Jacklyn Tran, Stephanie Thai and Joel Humes with a budget of $600 and two electric motors. The result, which ties laces bunny-ear style, is surprisingly impressive. Tying shoes -- it's not an easy task, and can take years for even a human to perfect. You have to make these loops, then cross over one loop with the other and *throwing shoe* GAAAH, why can't my parents just buy me the Velcro sneakers I asked for?! "The other kids will make fun of you, dear." They already do, mom, especially when I've already shown up for school four times this week only wearing socks. "But it's only Wednesday." I forgot my Lunchable on Tuesday and had to go back!
Keep going for the video.
Thanks to Charlotte, who agrees the key to tying your shoes is getting your mom to do it for you once and then just slipping in and out of them.