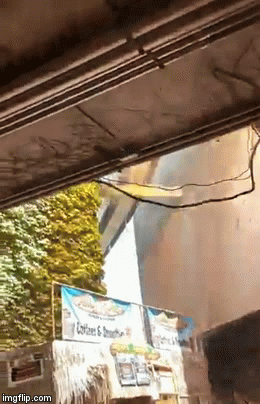 This is a short video of an electrical fire aboard the monorail at the California State Fair in Sacramento. Thankfully, the monorail operator was the only one on board at the time, and was able to exit safely. Man, those are some SOLID zippity-zaps. Still, a monorail fire is probably the last thing you want to see when you're operating a smoothie hut with palm-thatched roof accents directly below it. That would certainly make for an interesting conversation when you got home from work. "So, how was your day, honey?" *chugs three beers, lights cigarette* This smoothie game is just too dangerous, babe.
Keep going for the whole video while I speculate whether or not there's always money in this smoothie stand.
Thanks to Carlos, who agrees there were several people there who missed out on a golden opportunity to gain superpowers.