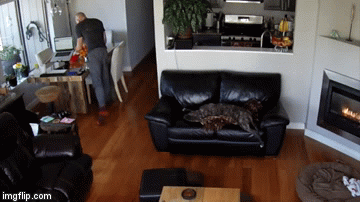 This is a short video of Apollo the dog rolling off the sofa he's sleeping on, and not letting a drop to the floor get between him and the nap he was in the middle of. His owner comes over to check on him though just to make sure he's okay. Man, Apollo is living the dream -- sleeping on the sofa, but also has a cozy dog bed right in front of the fire? I wouldn't bother waking up for anything either. I want his life, because I fell off the sofa in my sleep over the weekend, and all my girlfriend did was draw on my face and post the pictures to Instagram. It hurts, you know? "What does?" My back, I think I tweaked it.
Keep going for the whole video.
Thanks to Mindy N, who agrees when your life is perfect, why would you care if you roll off the sofa in your sleep?
Read More:
animals
,
awwww
,
doggos
,
dogs
,
i meant to do that
,
i wish i was curled up on the couch right about now
,
i'm okay
,
let sleeping dogs lie
,
living the dream
,
nothing to see here
,
pets
,
sleeping
,
that must have been a good nap
,
video
,
yeah i was getting tired of the couch anyways the floor is cool i like it here