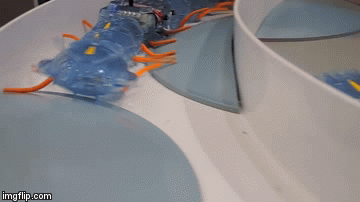 This is the $50 Centipede Robot educational construction kit sold by Japanese R/C toy manufacturer Tamiya. It's based on a centipede robot created by the Osaka University's Graduate School of Engineering. It's creepy. Still, it does look like it would make a great relationship tester. You just buy one, assemble it, then let it loose in the bed and tell your partner it's a new sex toy. If they're into it, you know they're the one. "To marry?" No, to quietly leave in the middle of the night. Don't even bother with a note, you'll only be wasting valuable time.
Keep going for a video of the toy in action.
Thanks to Aaron L, who agrees some things just don't need to exist.
Read More:
building things
,
centipede
,
creepy
,
creepy crawlies
,
having a terrible time
,
no thank you
,
plastic
,
playing with things
,
robotic
,
robots
,
so that's what that looks like
,
spiders don't bother me but centipedes -- centipedes bother me
,
that tickles!
,
the end nears
,
things that look like other things
,
toys
,
video
,
who would want that and why?