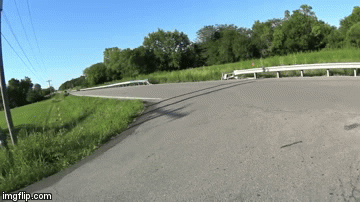 Note: Some very appropriate cursing by the cyclist.
This is a video from Peculiar, Missouri of a police officer looking at his phone while making a left turn and hitting a stationary bicyclist waiting at the intersection. The cyclist calls him out for texting and driving but the officer insists he wasn't texting, just looking at his phone. Well that's a relief. The officer has since been placed on leave with pay while the Missouri State Highway Patrol conduct an investigation as to whether the officer was distracted while driving, even though I'm 100% certain we can all agree we just watched a video of a police officer distracted by his phone hit a cyclist and then acknowledge that's exactly what happened.
Keep going for the video while I ask if I can just start sleeping at the office instead of cycling home.
Thanks to MSA, who agrees cell phones will kill us all.
Read More:
accidents
,
bicycle
,
bike
,
cell phones
,
crashing into things
,
i didn't even see you there
,
police
,
safety first
,
safety last
,
so that's what that looks like
,
terrifying
,
that wasn't supposed to happen
,
this is all your fault somehow i just know it
,
transportation
,
watch where you're going!
,
woopsie
,
you've got a fast car i want a ticket to anywhere maybe we can make a deal maybe together we can -- eyes on the road!