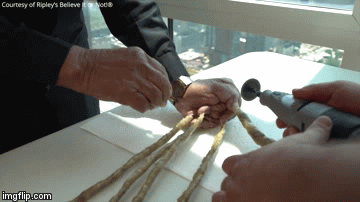 In I think I'm gonna be sick news, this a video of 82-year old Shridhar Chillal from India having his fingernails cut with a rotary saw. Shridhar has held the Guinness World Record for longest fingernails on a single hand since 2014, with a combined five-nail length of 909.6 centimeters (358.1-inches, or 29.84 feet). Could you imagine if he'd broken a nail during that time? TOTAL DEVASTATION.
The end of an era. After 66 years of growth, our record-breaker Shridhar Chillal from India cut off his enormous fingernails - which will now go on display at Ripley's Believe It Or Not in New York City, USA.
Oh cool, so you can swing by Ripley's Believe It Or Not in New York City if you want to be grossed out in real life. That's nice. So, if you had to choose -- would you rather endure: an hour long back scratch with these nails, or-- "Whatever the other thing is. I choose the other thing." A round of Marco Polo played in lava. "I'll put my swimsuit on." I've already got my feet in.
Keep going for this video, as well as another one discussing Shridhar's record much more in depth in case you can't get enough of this.
Thanks to K Diddie, for inspiring me to attempt to set the world record for longest toenails. Man, my girlfriend is going to love being little spoon.
Read More:
body parts
,
dare to dream
,
fingernails
,
grody
,
gross
,
guinness
,
holy smokes
,
i don't feel so good
,
i think i'm gonna be sick
,
look away
,
no thank you
,
records
,
sick
,
so that's what that looks like
,
stop
,
trying hard and believing in yourself
,
video
,
when breaking a nail means total devastation