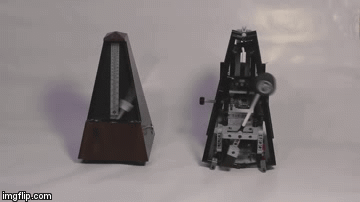 This is a video demonstration of the LEGO Technic metronome built by Mr. Smith of Youtube channel Mr. Smith's LEGO Models. It even has an adjustable scale you can change by sliding the weight (in this case a Technic car wheel) down the pendulum. For those of you unfamiliar, a metronome is a gnome that lives in the city, unlike its country garden dwelling brethren. "You're a hoot, GW." Trust me, your parents are going to love that one.
Keep going for the video while I reminisce fondly about putting a banana on the metronome Jojo the monkey uses to play the piano in the Bloody Lip Bar And Grill on Scabb Island in Monkey Island 2: LeChuck's Revenge so he freezes and you can put him in your pocket and SPOILER: later use him as a monkey wrench to stop the waterfall and uncover the passage to Rum Roger Jr.'s cottage on Phatt Island and collect another map piece.
Thanks to Alan, who keeps musical time with the sun and must play the slowest songs ever.