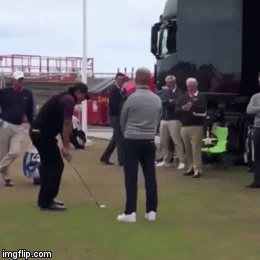 These are two videos (different angles) of golf legend Phil Mickelson demonstrating his signature 'Phil flop' by chipping a ball over Euro Tour pro Gary Evans' head while he stands there reliving how he got himself into this situation in the first place. Thankfully, Phil's flop shot is absolute perfection. My flop shot? Mine leaves a little something to be desired. "You clubbed the man in the balls." Yes I did. "Twice." That is true. "Do you even play golf?" Only mini. Still, I have to give props to Dick's Sporting Goods for hiring such willing-to-please employees.
Keep going for the video.


(🎥: @goodwalkspoiled) pic.twitter.com/7EYK3uHORa

— Callaway Golf (@CallawayGolf) July 17, 2018
#PhilMickelsonFlopShot @CallawayGolfEU @TheOpen pic.twitter.com/V0fyGOHuzE

— GaryEvansPro (@garyevanspro) July 17, 2018
Thanks to Andy, for reminding me I need to get that get well soon card in the mail.